When I reorganized our toy area a couple of weeks ago, our books went from being messily stacked in a box to being nicely accessibly on a bookshelf. The new organizer has had all kinds of positive effects, from the kids playing with the toys more to my living room looking about a thousand times more presentable, but the biggest change has been how much more the kids bring me books to read.
We're now spending good sized chunks of time every day reading, and both of the kids love it. Every time I turn around, Carolyn has a book that she is handing me, and after she gives it to me she immediately walks over to the recliner and points for me to sit down and read with her. It's sometimes inconvenient, but always adorable.
That uptick in our reading has had me wanting to share what some of the books are that the kids really love, and pull out for me to read to them over and over. We don't have a huge selection of books, but we have several great ones, and if you're wanting to start small with a few books, these have all been hits!
*Just for reference, if it helps, Peter is 2.5 years old right now and Carolyn is 15 months.
1. The Amazing Machines Collection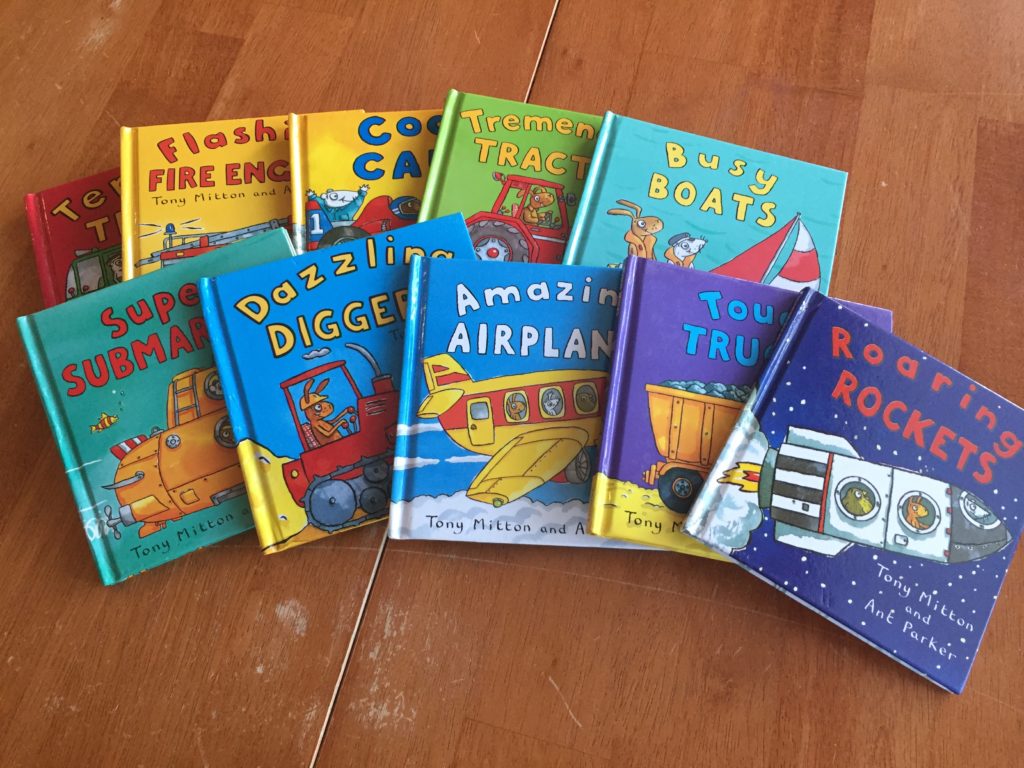 If you're into gender stereotypes, I'll say that these books are a boy's dream come true. Carolyn likes them a bit, but Peter cannot get enough of them. My mom got us the whole set maybe six months ago and he still wants to read them daily. They are his go-to books. He's a super car-obsessed kid, so maybe they are a bit of a niche, but when other kids, boys or girls, come over to play they are also drawn to them.
Peter loves these, and I really love them too! They have pretty accurate illustrations, and accurate terminology and details about what different machines do or how they work. I've even learned several things from these books! They rhyme and I think that makes them fun to read as well. There are big paperback ones, but these are maybe 5″x5″ and hardcover, which I really like. I would give these six stars out of five!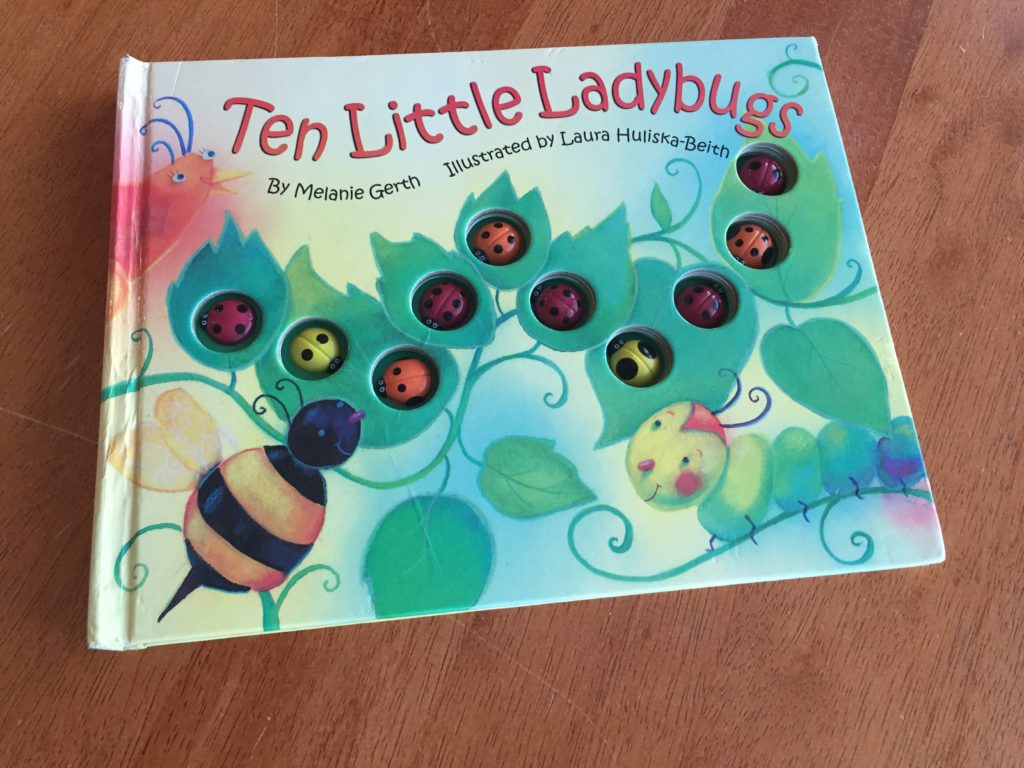 This is another book that both kids pull out over and over again. The ladybugs in the book are sort of like buttons, they are 3D and tactile and Carolyn loves to play with and grab at them. The book counts down from ten, and Peter can count with me now. On every page there is a new critter, and Peter loves identifying whether it's a caterpillar or a bumble bee, etc. Carolyn gets excited about the animals in it like the bird and duck. This is for sure a fun one.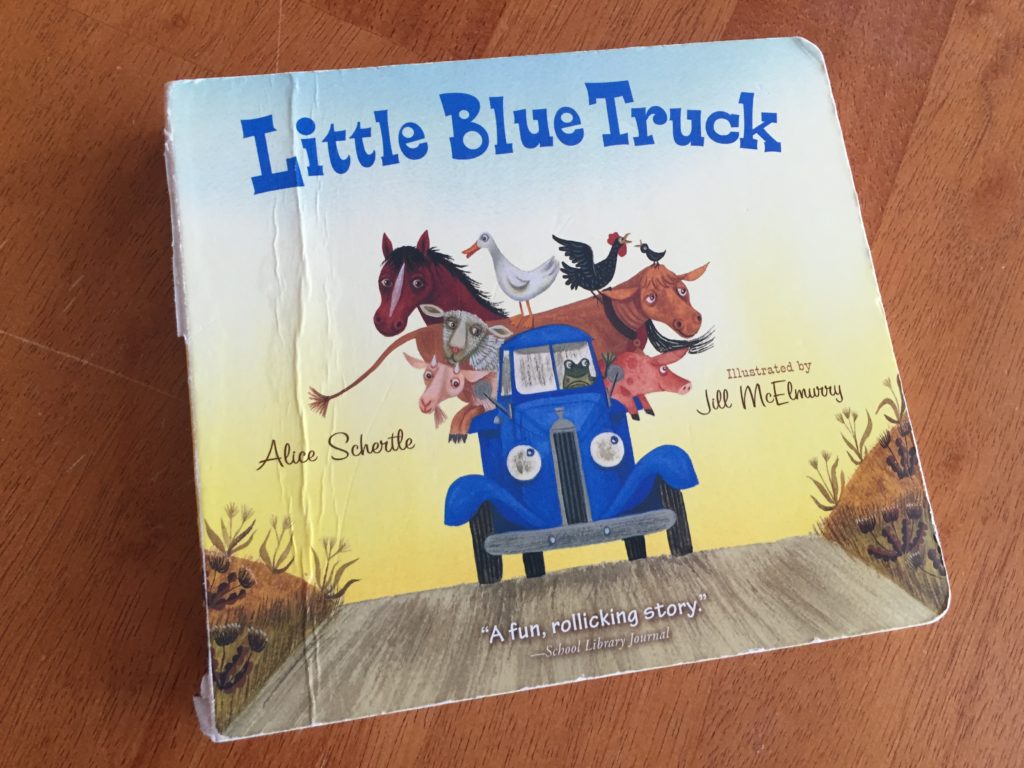 You can tell that this book looks well loved. That's because Peter wanted to keep it in bed with him for months. It's a really cute storyline about being nice and helping others, and has lots of animals and animal noises, which both kids love. It has a nice cadence as you read it, and Peter ended up with the story memorized well enough that he could finish every sentence for me. It's also about a truck, and has a dump truck in it too, so Peter was pretty on board from the get go.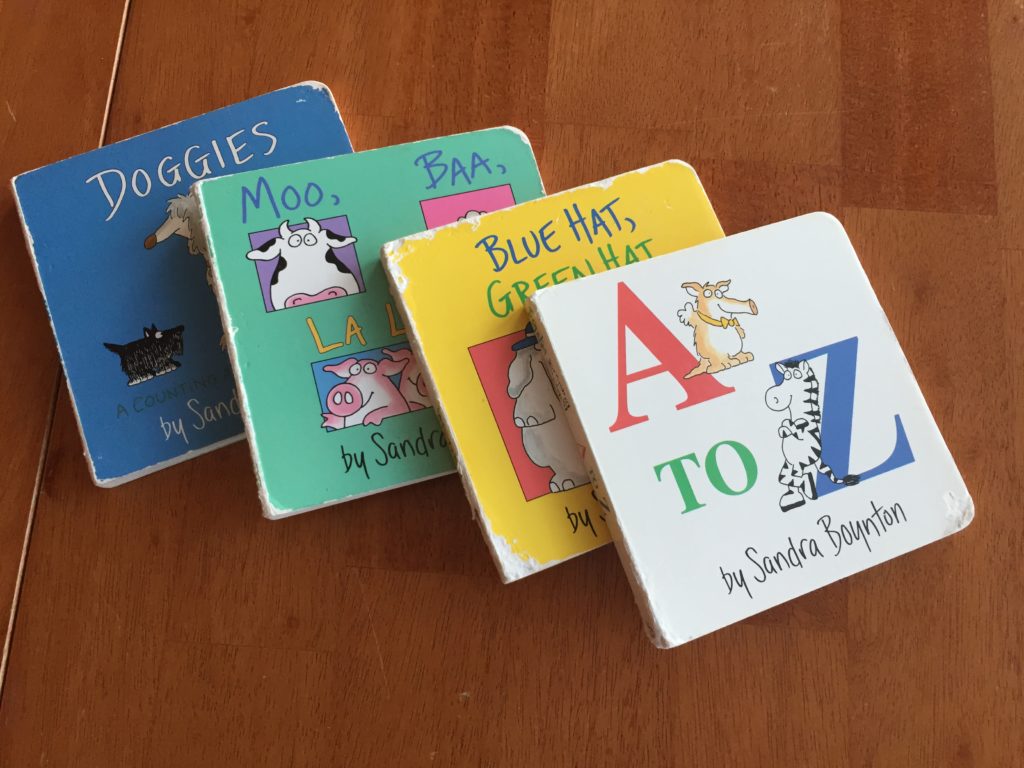 We got these books as a gift when Peter was born, and I was amazed at how soon he loved them. Not much could hold his attention and keep him still, but probably around six months these books could keep him mezmerized for a few minutes. There are many more books than what we have, but these are the only ones I've read. I've heard that all of her books are wonderful.
They are fun and witty, and I think they will keep getting better as the kids get older and get some of the subtle humor in them. They have lots of colors and letters and animals and noises, all of the kinds of things that kids like learning about. Carolyn pulls that "Doggies" book out constantly and coos and squeals through the whole thing.
5. Where Do Diggers Sleep at Night?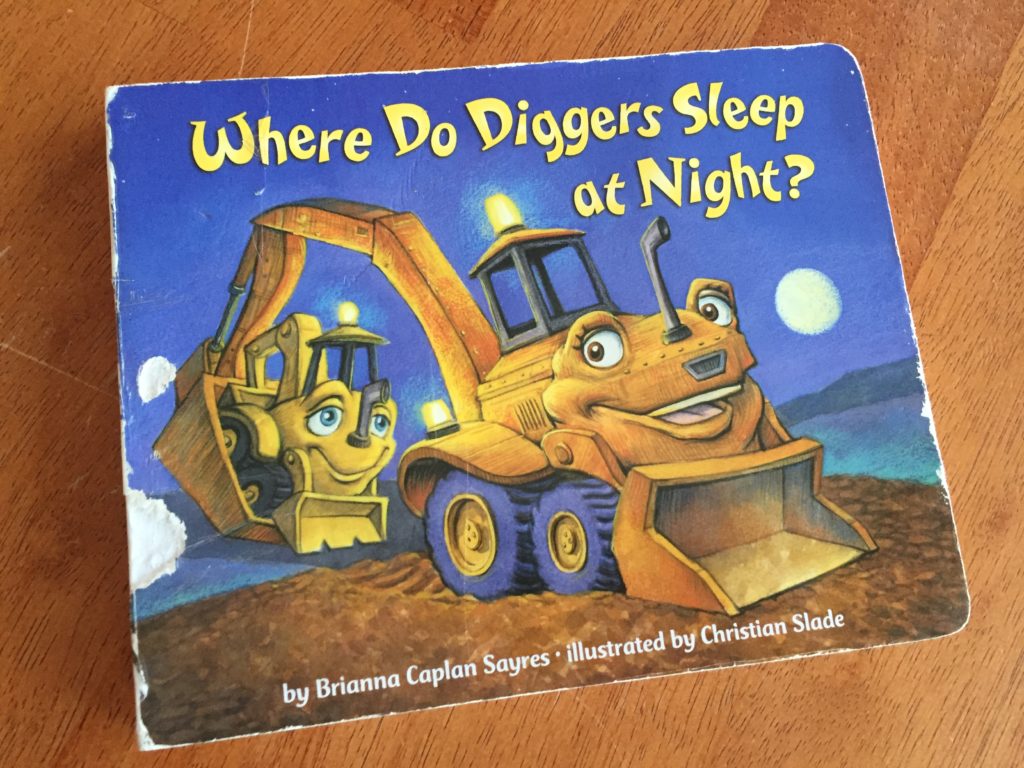 Another truck book. Another well loved truck book that Peter also took to bed for a few months. This book has diggers and dump trucks and garbage trucks and all kinds of things to get excited about if you are a car and truck obsessed toddler. This one is a good book for bedtime, because it sort of walks through the steps before bed- rocking, taking a bath, brushing teeth, and what have you. It also has nice rhymes, and one page with animals on it that Carolyn gets all giddy about.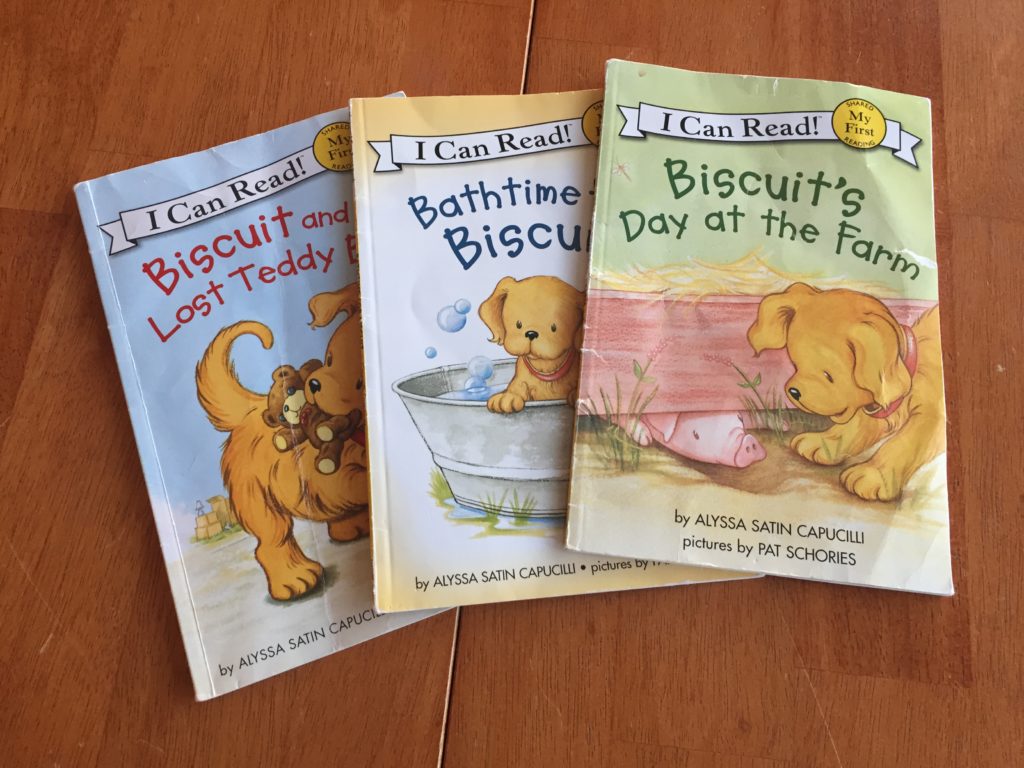 These are riiiight up Carolyn's wheelhouse. Everytime she sees these books the excited squeals start. The story lines are simple and it's about a cute little puppy and her little girl owner. Both kids like these ones. A word of caution, there is a lot of "woofing" in these books, and it's hard to read them over and over without eventually skipping some woofs. Or maybe that's just me. 🙂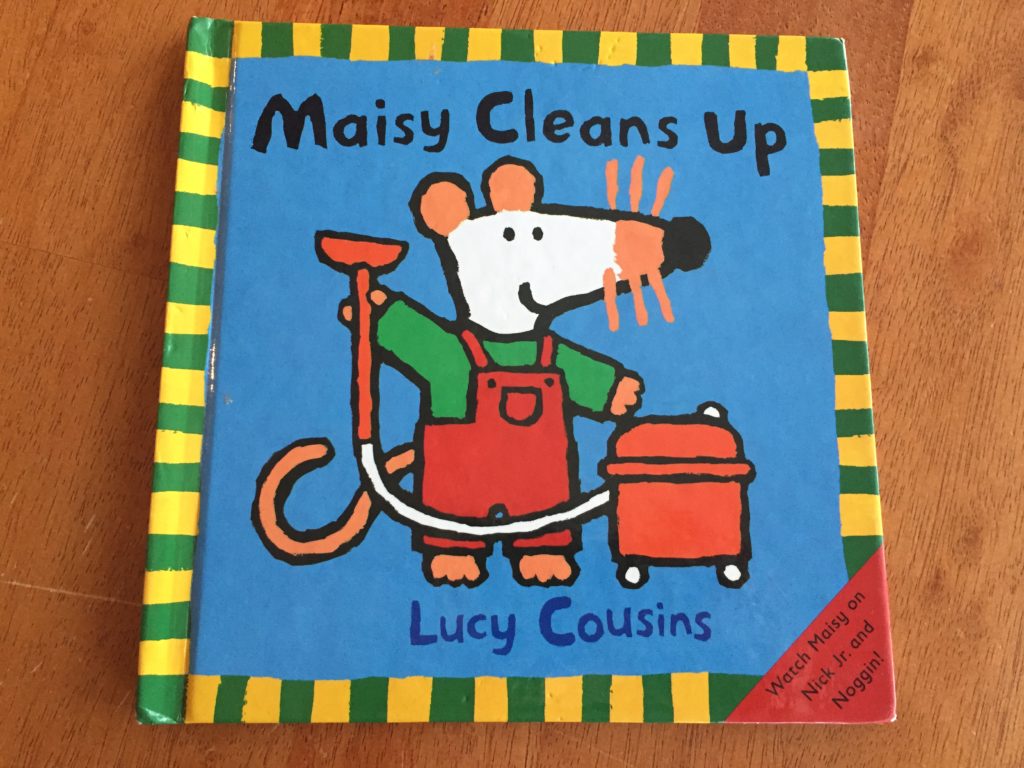 This was another book from my mom. Grandparents really are the best aren't they? This book is SO simple, but it's nice because that makes it a quick read. When I first read it, I was unimpressed, but both kids bring this one to me over and over. Peter always remembers it as the "cupcake book", because they have cupcakes at the end, and gets excited about all of the cleaning that happens. He will talk about this book surprisingly often and it makes him all giggly when we read it. I haven't quite figured out why it has such an affect on him, but it does, so it makes the list.
8. May I Please Have a Cookie?
This is the "cookie book", and Peter wanted to read nothing but this book for weeks, maybe even months. It is obviously about cookies, so if your child is likely to want treats from that, maybe skip it. What I really like about this one is that it's basically a lesson on manners, and I'm big into trying to raise well-mannered children. It has some funny parts that make Peter laugh, and did even when he was barely two. I have been really happy with this book.
9. Lani Lion
I heavily debated whether or not to include this book. When Peter was still not even one, we only had those four Sandra Boynton books and I think that was it. I was grocery shopping one day and grabbed this book out of the bargain discount bin. Peter was being short with  me so I just picked up a couple of board books without flipping through and skedaddled. It is mindblowingly simple, and references an animal called a dik-dik. What? I also could only find it for sale on one obscure website.
Anyway, after I brought it home, I was regretting my choice, but I kid you not, both of my children LOVE this book. It's about a lion and her friends going on a butterfly hunt, and the kids like to point to the butterflies. Carolyn is obsessed with this book. She brings it to me multiple times a day, and when Peter sees that we're reading it he always comes to join in.
I would be remiss if I didn't finish out our list of favorite books with this one.
I like to keep and ear or eye out for other favorite books, what are your favorite baby or toddler books?